Bell High School
Bell High School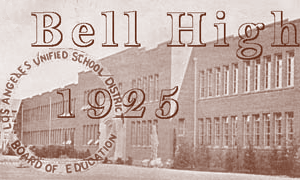 Located in the Southeastern section of Los Angeles County, Bell High School opened its doors in 1925 for 800 students. It has faithfully served the community through dramatic historical, social and technological periods of transition, and now faces even newer challenges of educating its increasing student population on the 1925 original school ground acreage.

The School is a multi-track Year Round comprehensive high school (grades 9-12). One of six high schools in Local District 6, and one of forty-nine comprehensive high schools in the Los Angeles Unified School District. It is fully accredited by the Accrediting Commission for Schools, Western Association of Schools and Colleges (ACS WASC).

Bell High School is serving 4,286 students (2009-10), from the tri-communities of Bell, Cudahy, and Maywood. Although the school population is 97% Latino, there is a growing number of Arabs in the area (about 5,000 families).